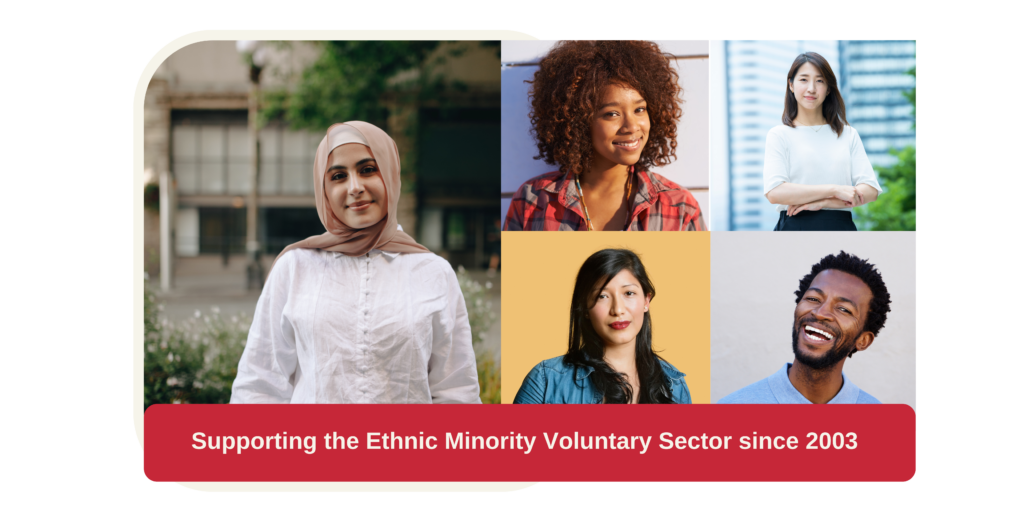 CEMVO Scotland is a national intermediary organisation and strategic partner of the Scottish Government Equality Unit.
 Our aim is to build the capacity and sustainability of the ethnic minority (EM) voluntary sector and its communities.  Since being established in 2003, we have developed a database network of over 600 ethnic minority voluntary sector organisations throughout Scotland to which we deliver a wide range of programmes that provide capacity building support to the sector
As a national organisation, we continually engage with the EM voluntary sector and its communities, which enable us to gather intelligence about the needs and issues affecting the sector. This helps our organisation to deliver tailored support to the sector, and to work strategically with public, statutory, and government agencies to tackle a range of prevalent issues such as race equality, social inclusion, capacity building and civic participation.
OUR MISSION
Underpinned by race equality, CEMVO Scotland's mission is to level the playing field for Scotland's ethnic minority voluntary sector and its communities. We will do this by: building capacity and mobilising skills in organisations and their people; fostering both individual and collective leadership; enabling active participation in community, democratic and civic life
OUR VALUES
At CEMVO Scotland, our work and actions are guided by a set of core values
Integrity
We carry out all our work in an open, honest and ethical manner.
Quality
We continuously improve and develop our operations and delivery of programmes to ensure they meet the needs of our stakeholders.
Equality
We treat people with respect and dignity, and tirelessly advocate for equal opportunities and inclusiveness in our society.
Our Achievements
We're extremely proud of what we've achieved over the past years.
Funding secured for the EM sector since 2006
Organisations supported through our programmes
Individuals supported through our programmes
Climate challenge funding secured
ETHNIC MINORITY IMPACT AWARD
The EM Impact Awards recognise individuals or organisations that have contributed to Scottish society or made a difference to their community locally or nationally.
The awards are administered by CEMVO Scotland and the judging panel consists of external representation from the sector and sponsors/partners.
The awards will honour individuals or organisations that have made a significant impact in 15 different areas. You can nominate individuals or organisations for the following awards: Business (Male and Female), Social Enterprise, Environment, Financial Inclusion, Employment, Health, Education, Sport, Housing, Youth, Arts/Entertainment, Empowering Women and Women in Leadership and a Special Recognition Award.
OUR PROJECTS PICTURE GALLERY
OUR SUPPORTING ORGANISATIONS AND FUNDS
Testimonials
Hear from people who have succeeded with us
"I'd like to say a massive thank you to everybody. Coming straight from education meant that this job was a big adjustment for me, but it was made easier because I was made to feel welcome and like part of the team from the very start. I have thoroughly enjoyed working with everybody and learning about the different projects while also being able to learn about different cultures, religions and try some new foods! Working at CEMVO has challenged me to do new things and showed me where my strengths are. I am so grateful for this opportunity and I will use what I have learned here throughout the rest of my life."
"West of Scotland Regional Equality Council (WSREC) is very pleased to endorse CEMVO in relation to business support and planning. Last year CEMVO was engaged by WSREC to provide facilitation to put in place a 5 year business plan. Staff from CEMVO utilised the KETSO Model to take WSREC Board of Directors and Staff through this model which culminated in WSREC gathering the information required and now have a robust 5 year business plan in place"
"I would personally like to thank the team at CEMVO but especially Zarina how she has worked hard to capacity built a network of ethnic minority organizations all around Scotland with regards to the Environment;
Introducing, developing, sustaining and expanding these new concepts/initiatives of Environment Protection and Carbon reduction to the BME communities should be applauded.

Thanks this is actual ground level Capacity Building."
"Thanks for the heavy amount of work you're always doing to help me through this project, don't know how i'd get to this level without your help, I really appreciate it."
"I have received a huge amount of support from Cemvo, in every possible way. Fiona and Mary provided me with a great knowledge of information and support. They have helped me through planning and organising my social enterprise and in completing various funding applications to start up my social enterprise. Without the support of Cemvo I don't think I would have even started up a business. Thank you Cemvo for helping me get this far."
"It was really amazing but we didn't get the chance to win any prize unfortunately. I guess we have tried it.

Kidding!! We WOOOON!!! YAPPIEEE! Words can't articulate the achievement we have achieved so far but we couldn't have done it without your help, support and advice. Thank You very much for being there for us."
"I am writing to thank you for the help and support that the Young, Confident & Connected (YCC) programme has provided for me.

Before YCC, I found life difficult. There were so many things going through my mind along with a personal struggle with confidence issues. I was not approachable and found it hard speaking to people generally and about my problems. At my worst stage, I was very unsociable, had poor communication and worried about going outside. I found myself lost and unsure about my future. I was lucky enough to hear about the YCC programme as I believe it has impacted my life in a really positive way. During the programme, I met a lot of people, made new friends and found the confidence to speak to them. After the YCC programme, I felt better in every aspect and more self-assured. I found the confidence to venture out on my own and to take public transport. Furthermore, it helped me realise my goals for the future and the confidence to pursue them.

I really believe that without this programme i would still be the person i was. I am really thankful to everyone in CEMVO especially Surbjit Dhillon who really helped not only me but everyone to see what they could achieve."