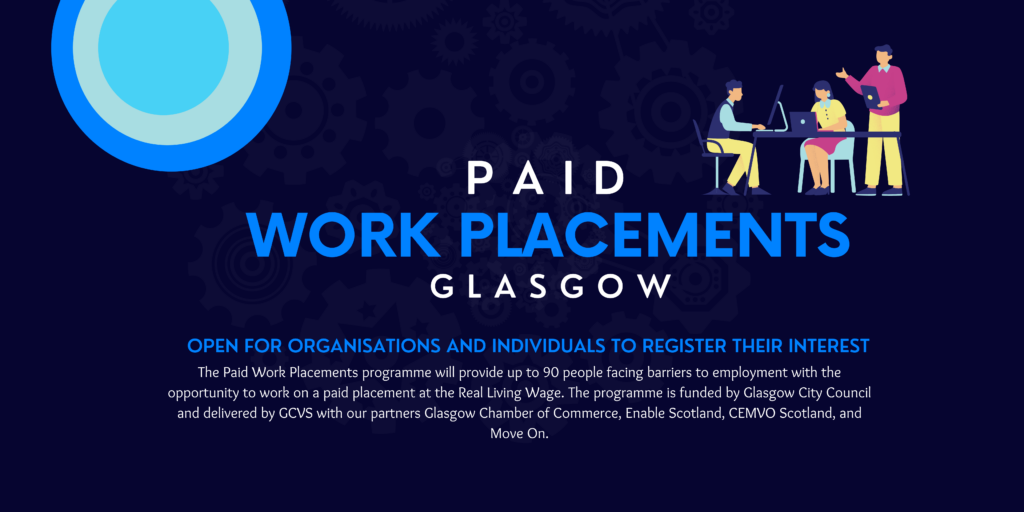 How does it work for participants/employees?
The programme is open to Glasgow City residents aged 16 to pensionable age who are not currently working but are eligible to work in the UK. 

Participants must be ready for work but have barriers to employment that make it difficult for them to secure a job independently. 

As an employee on a placement, you'll get valuable experience of work while being paid at least the Real Living Wage (£10.90 per hour). 

To help you get the most out of your placement, you'll also have support, including somebody to help you think about your goals and access any training you need.

Places in the programme are limited, and we will prioritise people who can benefit the most – people who are ready for work but unable to secure a job.
How does it work for employers/organisations?
Placements are open to public, private and third (or voluntary) sector employers in the city. At least 50% of the posts will be in the third or voluntary sector. 

Placements are limited, and we will prioritise organisations that can provide a quality placement opportunity and where there is a high chance of the employee sustaining employment at the end of the programme. 

There is also a £250 allowance for the employee to undertake relevant vocational or industry-specific qualifications.

Employers will also receive support from partners with the candidate's recruitment and any adjustments necessary for the employee to engage in work
If you are interested in a placement, you can download an application form below
If you are interested in registering a placement in your organisation, you can download a placement application form below
If you require any additional support or information regarding the above, don't hesitate to get in touch with Mona and Oumar on behalf of CEMVO Scotland.
Oumar.Akram@cemvoscotland.org.uk
mona.awan@cemvoscotland.org.uk (maymoona.awan@cemvoscotland.org.uk)