"How do we overcome that barrier of deeply ingrained, systemic racism?"
In December 2022, the Scottish Government published an anti-racist employment strategy as a response to the former EHRCJ's inquiry on Race Equality, Employment and Skills (2019/20). in 2020. As a contributor to the strategy and witnessing the elaborate and deep probing conversations on how this should be delivered, it has been a pleasure to support an anti-racist strategy which reflects on the present-day institutionalised racism within sectors. Although the Minister acknowledged that radical action is required to address these long-standing societal issues, the question remains: who is responsible for making it happen and where are the gaps?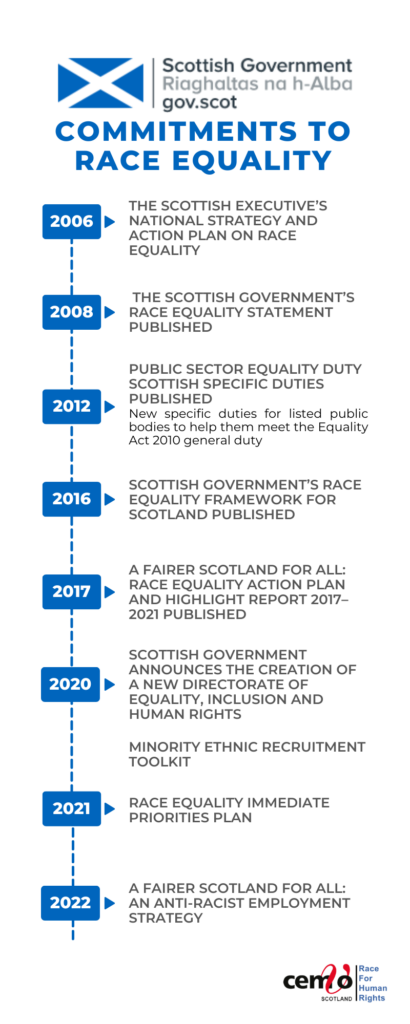 Race has been a societal issue for decades, with different forms of research and analysis, quantitative data analysis and recording of lived experiences forming the evidence needed to drive our policies. The Scottish Government has made commitments to address race equality since devolution through strategies, frameworks, and action plans. However, the issues that were pertinent in 2006 (when Scotland's devolved government began its commitments to race equality) still exist. This leads to the big question: "How do we overcome that barrier of deeply ingrained, systemic racism?" 
The invitation to give evidence at the Equality, Human Rights and Civil Justice Committee (EHRCJ) was welcomed and an opportunity to share the learning gained from our programmes and experiences. Below are extracts and context of some points raised at the session.  
Who is responsible for making that happen? 
One of the recommendations from CEMVO Scotland was for CEO's, board members and senior staff to be at the forefront and leading their organisation and this movement.  
We have seen a shift in how sexual harassment in the workplace is overtly dealt with through the #MeToo movement. This could be due to a number of operational, financial, marketing, or human resource matters. But what we have witnessed and experienced in the past decade is that when there is a huge societal problem in Scotland, leaders can rise up to the challenge to implement change.  
For example, the #MeToo movement and exposure of sexual harassment in the workplace shifted the narrative in an organisation's culture, from having a blasé attitude to completely unacceptable behaviour. To tackle this issue within society, a number of different methods were adopted, which are testimonial actions to support the notion that when an issue arises that affect the majority of the Scottish population, who are white, there is a stronger bias and priority from the majority white senior bureaucrats. In a similar fashion, we would expect senior leaders, managers, chief executives to take progressive action as a follow up from public statements made amidst the Black Lives Matter (BLM) movement in 2020, but unfortunately, there is little evidence is to be found in this topic. CEMVO Scotland recognises that the journey towards workplaces free from sexism etc is still ongoing, there is much more improvements compared to racism. 
According to the Scottish Specific Duties, Scottish Ministers are held responsible for the upholding of the Public Sector Equality Duty (PSED), but how do we hold Scottish Ministers to account in an effective and tangible manner?  
Street-level bureaucrats are the people who make policy-making decisions at ground level, but how much are they being influenced by leadership? How much are they being directed by leadership towards the anti-racist approach? The perceptions of a predominantly white workforce is that they have historically digressed from these issues due to a lack of interest convergence.  
What gaps still exist? 
A continuous theme has emerged from wider public and third sector investigation, which coincide with the work of CEMVO Scotland, is of leadership involvement in pursuing anti-racism within their respective organisations/directorates.  
Ensuring diverse representation across sectors in senior positions dilutes the racial bias and creates equity. Through lived and professional experiences, ethnic minorities (as part of a diverse workforce) offer better opportunities for creativity and problem-solving, smarter decision-making, increase in productivity, reduced rates of employee turnover and improved reputation for the organisation. 
Measurable outcomes within strategies and/or action plans are often not aspirational enough to make progressive change. This would support effective implementation and accountability structures are used properly. An example would be the proper utilisation of an Equality Impact Assessment . 
"How do we overcome that barrier of deeply ingrained, systemic racism?" 
The public sector equality duty has been in place since at least 2010. We have legislation in place, but what practical progress has been made? Encouraging leaders in the civil service or the public sector to set targets to achieve measurable outcomes within a specific period is a foundation to build upon. We know it can happen—for example, we have seen it happening on gender representation on public boards and in the recent movement towards supporting LGBTQ+ communities. If it can happen for these characteristics, why not on implementing anti-racism policies? This reinforces the view that the biggest issue in Scotland is white privilege and white fragility, because we do not see it.  
Reforming organisational culture to embed anti-racism is much needed, but also a really hard job. Policies can take on only so much; it is down to the human capital in an organisation to change, which is why CEMVO Scotland advocate for (as a minimum) having proportional representation so that we get people who have had diverse, intersectional experiences.  
Most importantly, the lack of implementation and accountability is the greatest issue. Both the Scottish Parliament and the Scottish Government have had a number of opportunities, yet not enough progress has been made for ethnic minorities to have trust in their local and national Governments. Why would someone from an ethnic minority want to work for any public or third sector organisation if they cannot see it adopting an outward, visible narrative that takes a zero-tolerance approach to racism?